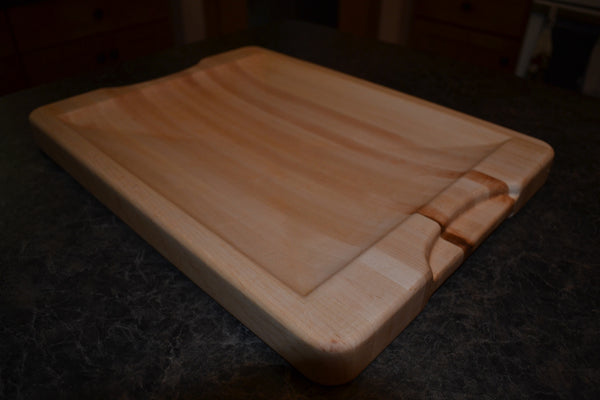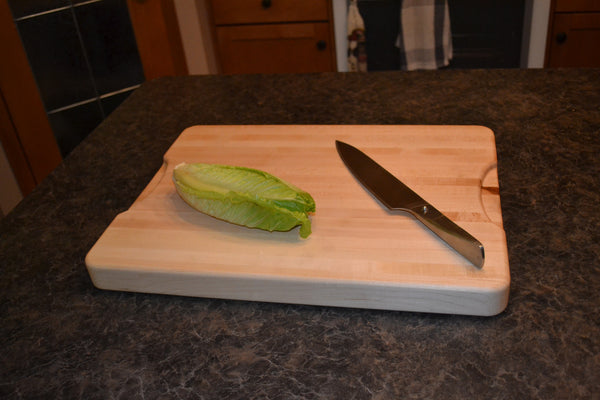 Rectangular Salad Board - Maple
This innovative design allows you to chop and serve you salad on the same attractive edge-grain hard maple board. This reversible maple block doubles as a cutting board on one side and a shallow bowl on the other for displaying salads at your table. Perfect for large family meals.
Carved from sustainably harvested hard maple.
Reversible board with a flat side for cutting; curved side for tossing and serving.
Integral side handles for easy carrying.
Finished with food-safe linseed oil and beeswax.
Dimensions are 15" x 20" x 1.75".
Weight is approx. 9 lbs. 6oz
Use
Board should be seasoned with a food-grade mineral oil before first use.
To season the board properly, apply the oil in the direction of the wood grain using a clean, dry cloth. Allow the oil to soak in and repeat with another application. Allow the board to dry and wipe off any excess oil.
Care
Hand-wash with hot, soapy water. Dry thoroughly.
Do not soak or submerge board in water.
Occasionally rub with a food-safe mineral oil to keep wood from drying out.
To sanitize, wash the board with a solution of one part vinegar to five parts water.
Remove odors by rubbing the board with kosher or table salt and half a lemon. Let sit for 2 to 3 minutes then wipe clean with a damp cloth. Remove excess moisture with a clean paper towel and stand the board on end to air dry.
Store in a dry area away from extreme temperatures.
Note: objects aside from the board are shown for display purposes only and are not included.
---